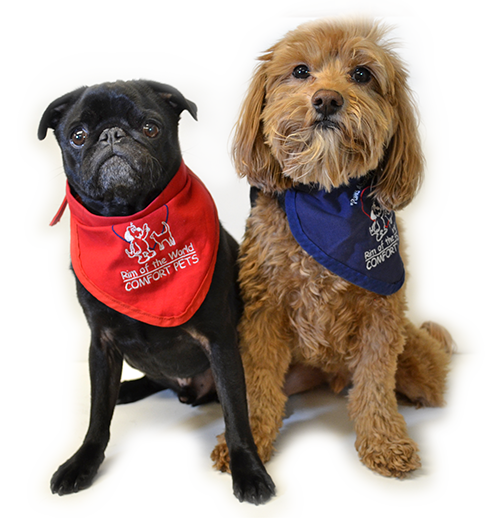 At Pirih Productions, teamwork is at the heart of what we do. Beyond what we do for our clients, we believe teamwork is also the best way to give back to our community.
If you visit our office in Rim Forest, you'll meet our furry team members, Dobby and Wallie, who have a very special job to do. We've teamed up with them to create dog & trainer therapy teams that can serve people in unique ways and locations–from hospitals to airports.
Dobby is a sweet little black pug, and Wallie is a fluffy apricot cockapoo who thinks everyone is his friend. To become therapy dogs, the pups completed basic obedience training and took a certification test. Both passed with flying colors!
Research shows that even a brief visit with a therapy dog can significantly decrease stress levels and reduce negative emotions. We've seen this magic happen firsthand as we've begun volunteering with Dobby and Wallie.
Our first therapy team visit was to skilled nursing facility at a local community hospital. We were all a little nervous, but after a few practice runs the pups couldn't wait to get inside and visit with both the staff and residents. Smiles light up all around the building every time we visit.
Dobby is most in his element in the local READ Program, where first grade students read books to him. He usually falls asleep, which suits him and the kids just fine, and his snoring often inspires laughter.
Wallie most enjoys going to a local university the week before finals. He helps the students forget about their studies for a little while with a few cuddles and wet-nose kisses.
Wallie also loves going to the airport to help people who are stressed about flying. Clad in a blue bandana that reads "pet me," he helps anxious passengers melt and relax in just a few minutes. He's also a favorite of the TSA agents, who are quick to volunteer for the honor of carrying him through the security checkpoint.
As therapy teams, we also visit libraries, hospitals, retirement homes, schools, and rehabilitation facilities. We participate in community parades and charity fundraisers, sharing our pups and encouraging others to find their own way to give back to their communities.
If you're ever in need of a little dog therapy, please swing by our office in Rim Forest where Dobby and Wallie are looking forward to your visit! If you have ideas of other places our therapy teams could spread a little joy, please get in touch. And if you need team players for your graphic and advertising needs, we're here to help (and so are Dobby and Wallie).
"The best way to find yourself is to lose yourself in the service of others." — Mahatma Gandhi